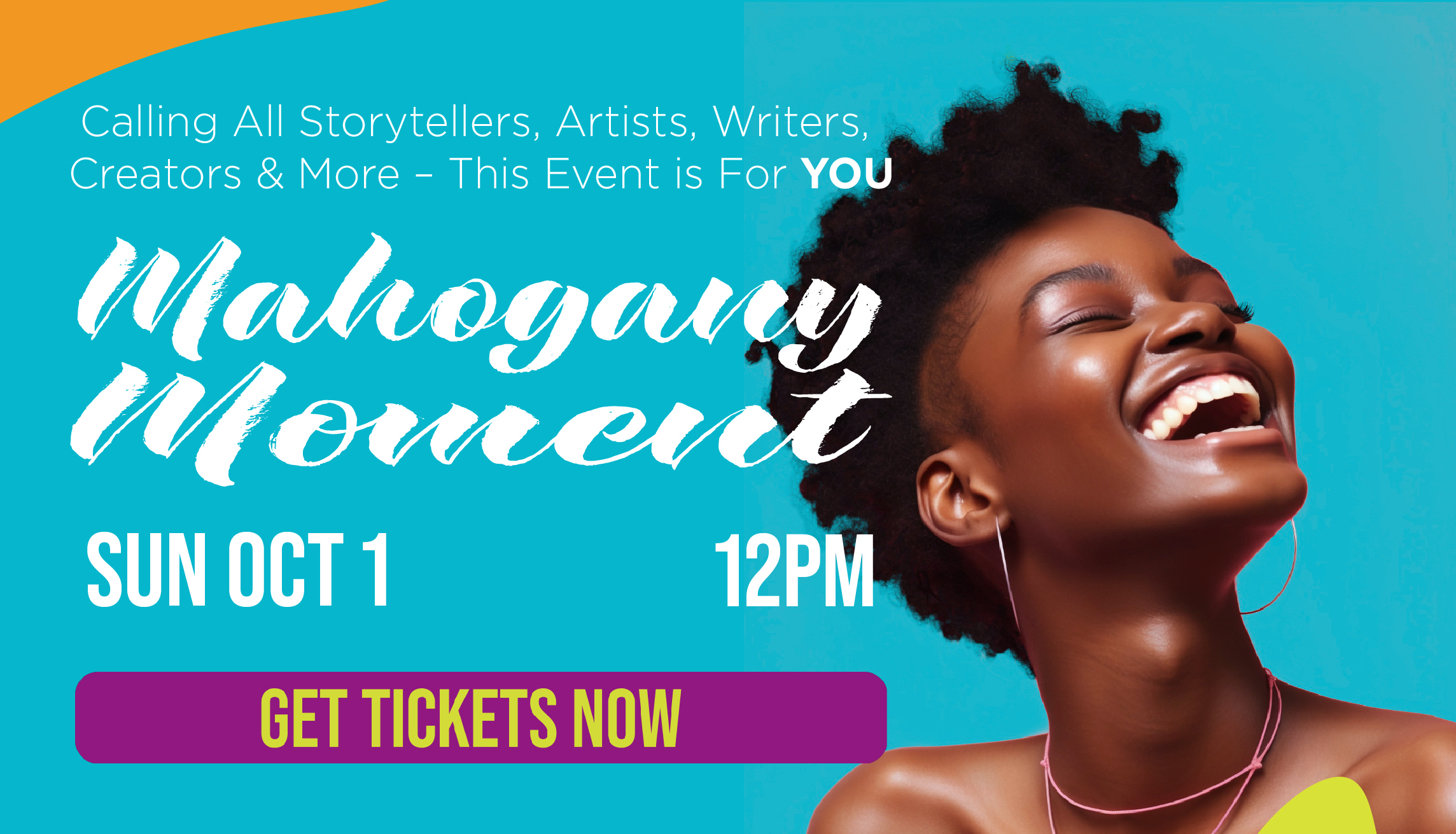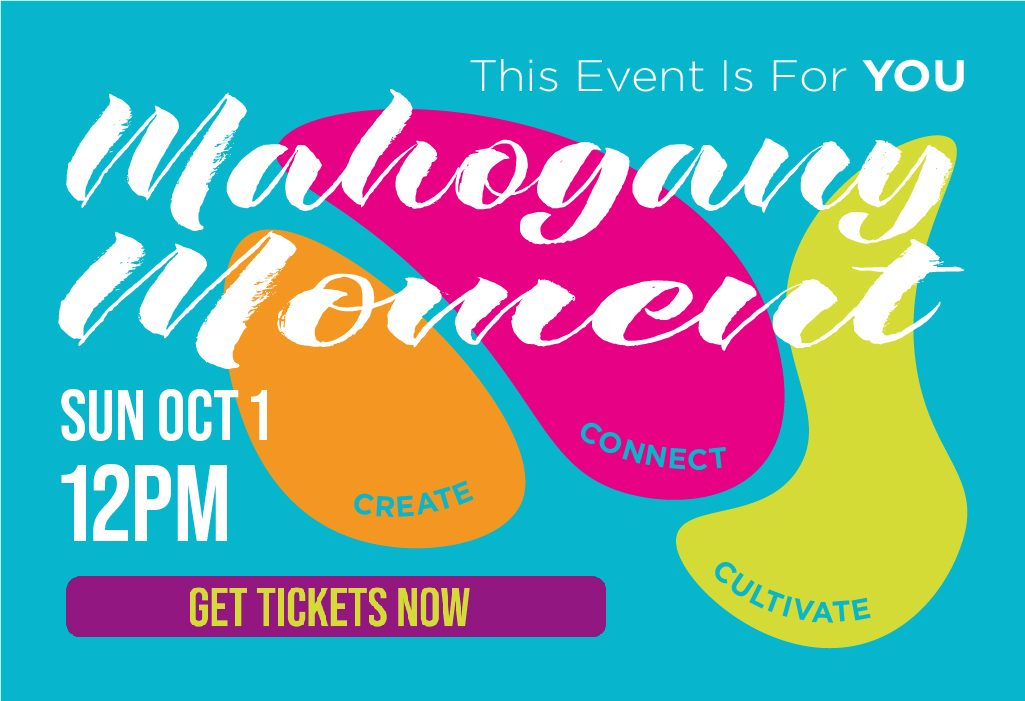 The Mahogany Moment
ABOUT
Sis, get out your calendar and save the date! On Sunday, October 1st, Mahogany is hosting A Mahogany Moment: Transform Inspiration into Action in Atlanta, Georgia. Taking place at the beautiful Georgia Freight Depot, A Mahogany Moment will be an opportunity for you to take a deep breath, pause from the hectic fullness of life, and immerse yourself fully into your creative side so that you can concretely activate your dreams, hobbies, and passion!
CONNECT. CREATE. CULTIVATE.
This is a full day of immersion, Sis! Across five hours, you will get to connect, create, and cultivate ideas with Black creatives through different events: Hear from an inspiring Keynote Speaker, in conversation with a Moderator at the Main Stage to start the day, explore the Marketplace where you'll find and engage directly with Atlanta-based creators and entrepreneurs, and check out the workshop sessions with Mahogany Creatives, business owners, partners, and influencers. It's a networking paradise!
CHECK OUT PANELS AND WORKSHOP
Sis, can you believe it? We have quite the lineup of amazing speakers on deck for The Mahogany Moment! Our main headliner is none other than the Tabitha Bonita Brown—an Emmy-nominated actress, beloved social media personality, vegan recipe star, owner of the most glorious 'fro named Donna, and affectionately known as "America's Mom." In addition to Mrs. Brown, we've also got…
Egypt Sherrod is a radio and television personality as well as a real estate broker best known for hosting HGTV's Flipping Virgins and Property Virgins. She is also the founder of a non-profit dedicated to financial empowerment and awareness, The Egypt Cares Family Foundation.
Marshawn Daniels is a Reinvention Strategist, Author, and Millionaire Faith + Business Coach who founded the Godfidence® movement and She Profits®, where she helps women "turn ideas into income and faith into action!"
Wendy Eley Jackson is the founder and executive producer of Auburn Avenue Films. In her work, Jackson transforms creative currency into business strategy and has a worked extensively in television broadcasting and the film industry.
Mikaela Pabon is the owner of women's fashion boutique, Dressed In Joy. This boutique is all about bold original prints designed by Pabon herself on classic fashions that envelope her customers in JOY, literally!
Crystal Renne Hayslett is a celebrated actress, producer, and podcast host.
Cynthia Denis Bailey is a celebrated model, actress, and reality television personality best known for her spot on The Housewives of Atlanta! She has appeared in several films, shows, and owns her own line of luxury bags, candles, eyewear, and more.
EVENT DETAILS
But it's not all business. There will also be dedicated wellness and inspiration spaces where you can rest, rejuvenate, and develop those next steps for your specific dreams as well as several fabulous extras:
Enjoy social giveaways throughout the day of top Mahogany exclusives!
Unwind and recharge at the curated Hallmark Channel space so you can rest up between events!
One lucky attendee will win a walk on role in a 2024 Mahogany Movie
Get your delicious lunch, and delightful afternoon snacks throughout the afternoon!
Enjoy tiered gift bag offerings chock full of Mahogany favorites!
EVENT DAY
Date: Sunday, October 1st
Time: 12pm to 5pm
VIP Entrance: 11:30am
Location: Georgia Freight Depot: 201 Piedmont Ave SE Atlanta, GA 30303
For attendees, vendors, speakers, and all drop-offs: Please GPS to the address of 33 Martin Luther King Jr Drive Atlanta, GA 30303. This is in front of the building, and one of the many parking options. We strongly suggest attendees take Lyft or Uber to the venue
ADDITIONAL SPEAKERS
Andrea McKenzie- Mixed Media Artist
Mimi Dixon- Senior Director of Brand Activation & Content at Crayola
Melvina Young- Hallmark Master Writer
Toni Judkins- Hallmark Media: Mahogany, Senior Vice President of Programming & Development
Melissa Mitchell- Artist & CEO of Abeille Creations
Dierdra Zollar- Hallmark Editorial Director
Dr. Akua- Licensed Psychotherapist
Angwi Tacho- Digital Content Creator
Whitney LaBelle- Comedian, Actress, Host
Nikko Smith- Luxury Wardrobe Stylist + Style Expert
Ursula James- Social Entrepreneur, Mahogany Writer Community Leader
Cheryl Polote-Williamson Multi Best-selling Author, Award-winning Filmmaker and Executive Producer
Kristina Bowman Smith- Social Media Influencer, Reality TV Star, Image Consultant
Keny Freeman- Lead Designer at Sylvia Mollie
Alexandria Alli- Entrepreneur, CEO and Founder of F&W Style